visorcentral.com >> Stories >> Special Reports
VisorCentral Awards 2000
Be$t Value of the Year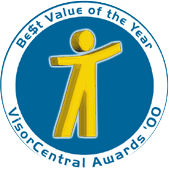 Everyone knows what a great deal the Visor is, and the products that are available for the Visor are no exception.  Springboard modules have the capability to bundle software on the module, adding to their Value.  Other accessories can do this as well.  The winner of the Be$t Value of the Year is a useful product made even better by its price and the "little things" that come with it.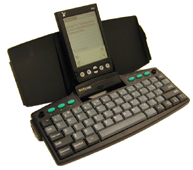 Winner: Landware GoType! Pro keyboard
The GoType! Pro is a high quality keyboard that includes all the extras needed to make this the keyboard for the mobile professional.  An included USB cable allows the GoType to function as a HotSync cradle, and Landware has also included DOC editing and thesaurus applications.  As noted in a keyboard comparison article, the GoType! Pro is a terrific value, and is the perfect keyboard for the budget-conscious consumer.
James: TakeNote and WordSleuth are terrific applications that I use when writing on my Visor Deluxe.  The GoType! Pro's durability and price make this an excellent keyboard for students and mobile professionals alike.

Marcus: Two keyboards were released for the Visor this year, and while the Stowaway has a higher wow factor, Landware's GoType is a better value. Bundling these high quality applications with the GoType was an excellent marketing move for Landware.
Honorable Mention: Handspring Backup Module

While not including any extra software, the Backup module is a great value for two reasons -- simplicity and price.  Its one button operation has saved the day for many Visor users, and its relatively low price more than pays for itself the first time a hard reset occurs.  Every Visor owner should have this Springboard module.

Application of the Year >>



Copyright ©1999-2016 Smartphone Experts. All rights reserved : Terms of Use : Privacy Policy
VisorCentral is not not affiliated with or endorsed by Handspring Inc in any way.