visorcentral.com >> Stories >> Commentary
My Visor goes to School
Good Software
There is so much software for the Palm platform! This is a list of some software that I have found helpful for use in school. There have been many threads about software for use in school, so do a search on the VisorCentral Forums, and you can find out what others have found helpful.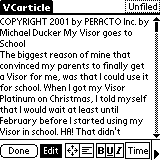 1. WordSmith. This one piece of software is the most important one I have. I use it to take all my notes, and is great for writing papers, (I'm even writing part of this using WordSmith). I've tried Takenote, and Q.E.D , but none of them help as much as WordSmith.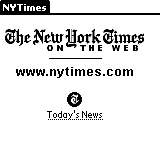 2. Avantgo. I've used this way too much during reading times or when I'm bored. Being able to read the New York Times or Slashdot is wonderful. Helpful hint: Slashdot has a "mobile page" for things like Avantgo at www.slashdot.org/palm/

3. The Visor's built in apps. I use TODO for my homework, and Datebook+ for scheduling. I've tried apps built just to record homework, but it's too complicated. I like to make a TODO category for each of my subjects, and than I just file each todo in the appropriate subject.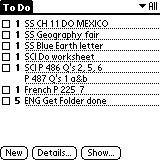 4. Fitaly. I can't afford a Stowaway, but the Fitaly on-screen keyboard lets me type at a faster rate, so that I can keep up with my teacher.

5. PalmPrint. My school's equipped with HP Laserjet 6mp's, which have built in infrared port. Because of this, PalmPrint is important so that I can print things during school.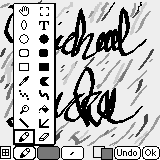 6. TealPaint. I really need it for Science. You can't draw without it. Their are other alternatives that are FREE, but this one is much better.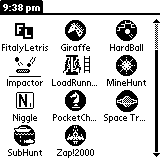 7. GAMES! GAMES! GAMES! You can't have enough. Even though I'm not supposed to play them during school, I always find time to play some Subhunt, or Zap2000!.

8. BackupBuddy. I need this because I don't have a Backup Module .. yet. I can't spare any chance of losing files. If I lose one page of notes, or a whole year's worth of notes, I couldn't recover.

Surprisingly, that's all. I find that WordSmith, and the built in apps do all the dirty work, and the other's fill in the gaps. I would love a graphing calculator, but I've tried many, and none of them have any of the features, or ease of use as a TI-83.

Hardware >>


Copyright ©1999-2016 Smartphone Experts. All rights reserved : Terms of Use : Privacy Policy
VisorCentral is not not affiliated with or endorsed by Handspring Inc in any way.