visorcentral.com >> Stories >> Special Reports
VisorCentral Awards 2001
Springboard Module of the Year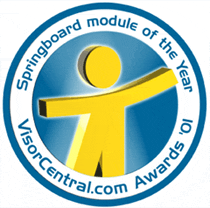 The Handspring Visor's Springboard slot is what differentiates it from any other handheld in the industry. Other Palm-compatibles now have expansion of some kind, but it was the Springboard slot that brought unlimited possibilities to the world of Palm. The Springboard
module of the year utilizes that potential to make the Visor even more remarkable than ever thought possible.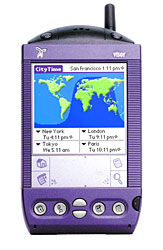 Winner: VisorPhone by Handspring


Convergence. It is one of those buzzwords bandied around by pundits who are clamoring for a PDA with cellular capabilities. The smartphone is the Next Big Thing in the computer world. Microsoft, Palm, and Handspring are all working on handheld computers that have a built-in cell phone. How fitting that Handspring was able to give users a taste of the future with its VisorPhone, a Springboard module that gives the Visor an integrated GSM cellular phone and data modem.


Although its size has not given it the market acceptance that it deserves, the VisorPhone is a truly remarkable product that gives us a glimpse at what a smartphone should be -- intelligent. The VisorPhone has one of the most intuitive interfaces ever in a phone, and the ability to browse the web by using the included Blazer web browser makes the VisorPhone even better.


Hromadka: What strikes me most about the VisorPhone is the sheer convenience of its data modem. When I was at Möbius 2001, one of the attendees had a VisorPhone that he was using to check the college football scores with while we were waiting for a bus. Even one of the Microsoft people said that the VisorPhone was great!


Honorable Mention: Presenter-to-Go by Margi Systems


There will come a day when laptops are no longer needed for business trips. The Presenter-To-Go Springboard module makes it possible to give all of your presentations using the Visor. This module was very popular at demonstrations during this year's VisorAdventure, and why not? Seeing is believing. You do not need that laptop anymore (unless it is James' TiBook).



Last year's winner: MiniJam



Visor of the Year >>



Copyright ©1999-2016 Smartphone Experts. All rights reserved : Terms of Use : Privacy Policy
VisorCentral is not not affiliated with or endorsed by Handspring Inc in any way.