visorcentral.com >> Stories >> Special Reports
VisorCentral Awards 2001
Communications Module of the Year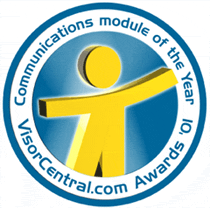 The Handspring Visor is not an island unto itself. There is a whole world out there waiting to communicate with it, and until the Visor has built-in communications capabilities, the best way to communicate is by using a Springboard module. The Communications Module of the Year connects the Visor with the world in a way that is easy and practical.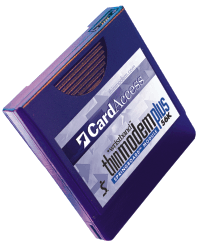 Winner: Thinmodem Plus by Card Access


When the Visor was released, the first thing people wanted was a way to use more than one module at a time. Then came promises of "combo modules" that would perform more than one function, negating the need for multiple Springboard modules. The Thinmodem Plus answers that promise; it lets users store almost 8 MB of applications and data while also acting as a 56 Kbps landline modem -- all in a standard size Springboard module.


Hromadka: This is one of the most useful Springboard modules ever made. You want more memory? Done. Want a modem? Done. This is a Springboard module that begs to remain inserted into the Visor.


Honorable Mention: VisorPhone by Handspring


Although it is by no means a small module, the VisorPhone makes up for it in a big way with its versatility. By doubling as a cell phone and a wireless modem, the VisorPhone meets all of your needs, be they data or voice. Now instead of playing Solitaire during a meeting, you can be downloading stock information or sports scores.



Storage Module of the Year >>


Copyright ©1999-2016 Smartphone Experts. All rights reserved : Terms of Use : Privacy Policy
VisorCentral is not not affiliated with or endorsed by Handspring Inc in any way.