visorcentral.com >> Stories >> Commentary
Ducker's Comdex Comments
Day 2

For all the people that work for PDA companies and read VisorCentral, I am the ultimate product durability tester. My latest act of terror:

The Thimodem is a really cool thing, being the only shipping standard sized modem, but it does have the problem of a dongle. The dongle has a very short connector into the modem, and it doesn't take much torque to break apart the module with it. Springboard modules are generally sonically welded, and the connection between plastics is pretty strong, but it will eventually break as I found out. Sometime late Sunday night, I pulled on the dongle in a way that loosened the connector in the motherboard of the springboard. It wasn't until this morning that I realized that I couldn't get a dial-tone anymore. I couldn't figure out why until tonight. At first, I thought it was a cable problem, but when I was putting things away, giving up, I pulled the dongle out, and out came the connector to the motherboard, and the module basically fell apart in my hands. It's interesting to note how few chips are on the Thinmodem's motherboard. So this journal is brought to you by beam-sneaker net. (I type up, beam to Marcus in the morning, he goes to laptop, uploads it to web.) I hope this thing is still covered by warranty....

Now that my rant is over, let's hear about COMDEX. We started the day with a private conference with Handspring, in which where we were able to see a hands on demo of the Treo and ask any questions we wanted. The Treo is amazing. I don't want to repeat what we've already covered on VC, but the Treo has such a perfect form factor.

After that the floor opened up, and I had some fun with security (underage issues - egh!), I eventually got in. Things of note, Sicon, an OEM manufacturer and designer of products (most notably the GoType keyboard was manufactured and designed by them), showed off a new line of chargers that fold up. Eventually these will work with the Visor - they are really cool as they are a roll of cable, and a fold up charger. I can't wait to get my hands on them. Also, Sicon exclusively showed VisorCentral a working prototype of the Pathway 56 - a form fitting new 56k modem with no dongles and up to 16 MB onboard memory. Look for it in January, among other things.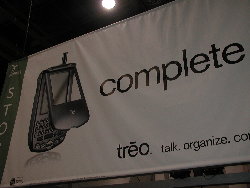 Handspring's presence at COMDEX is big on Treo ads, little on everything that really matters. Their booth was large, but not much was being demonstrated. Only one springboard module, the Airprime SB300 was being demonstrated. They did though have booths from their enterprise partners, namely Vista and Extended Systems.

The big thing this year at Comdex is connectivity. One of the coolest things I saw was QuickOffice Conference (see the video demonstration of it on VisorCentral). This software, an add-on to QuickOffice, lets Palm OS PDAs that are on a network work together on one document.

Another little cool quickie - A small company was demonstrating a snap on thumb type keyboard for the Palm V - it kind of looks like the Snap'N'type. The cool thing about this keyboard is that it's driver allows you to beam while the keyboard is connected (and in use) on the palm. I assume this works because the driver intercepts beams, turns off the kb, sends the beam, turns on the keyboard. AFAIK this does not work for receiving. No Visor version will be available in the future though unluckily :(

That was pretty much todays show, well at least the stuff I remember late at night, after a wonderful dinner - Targus, Think Outside, Quicksence, Blue Nomad, and VisorCentral were all represented. Think Outside had all their head engineers there - very pleasant.

Tomorrow is my last day, thanks to Northwest changing my flight…


Day 3 >>



Copyright ©1999-2016 Smartphone Experts. All rights reserved : Terms of Use : Privacy Policy
VisorCentral is not not affiliated with or endorsed by Handspring Inc in any way.