visorcentral.com >> Stories >> Hardware
Weekend Mailbag #4

The parade of Treo reviews has started - Today, PC Magazine gave the Treo 4 out of 5 stars, the main problem noted by them is lack of expandability.

It is interesting to note that the speakerphone feature of the Treo was "Impressive" for them; While at Comdex when we were demoed the Treo, it was disappointing - good to know Handspring has improved it. Overall it was positive, and the Treo was given one of the highest ratings that PC Mag. have given a Handspring PDA before, or shall I say communicator ;).

TDS_Computer noticed that Handspring now has refurbished Visor Prism's available for $249, $50 off what they retail. Handspring also offers refurbished Visor Deluxe's for $99. Supposedly at some stores like Target people are finding the Deluxe on sale around that price or a bit higher.

PDAlive is reporting that Belkin will release a new $49 snap on thumb keyboard for the Visor. It will be available by the end of the month; other models will be available for the iPaq and the palm universal connector.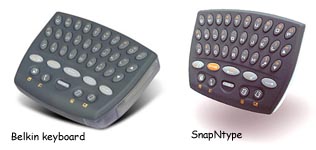 Update: MarkEagle found the press release for the Belkin keyboard and he has noted that it looks almost exactly the same as the SnapNType, abit $10 more expensive. It will be available on Jan 28th.

For those who are interested, it appears that the Targus Handcam's internals are made by a company called Xirlink, the model being the xvp-69 dual mode imaging device. Thanks to c-u-n-maui for opening up the Handcam and figuring it out. For reference, the xvp-69 can have up to 4 MB of onboard memory, not just 2 MB.


I hope to receive my review unit of the Handcam next week, I'll try to get that review written fast. Keep sending news and other items of interest to us at news@visorcentral.com. Alas, school starts again Monday so I won't be able to keep up as much with the news - I can't wait to see what Apple comes out with! It's been rumored that it could be a PDA... I'm sure James is just as excited as I am ;)




Copyright ©1999-2016 Smartphone Experts. All rights reserved : Terms of Use : Privacy Policy
VisorCentral is not not affiliated with or endorsed by Handspring Inc in any way.