visorcentral.com >> Stories >> Hardware
Treo (almost) ships in US!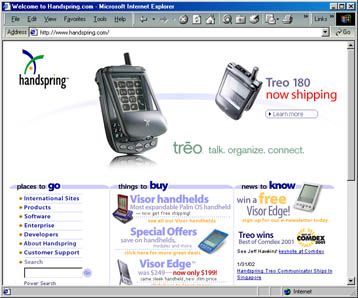 The Treo, Handspring's long awaited new product, is now available in the United States and Canada. It has previously only been available in Hong Kong and in Singapore.

"We've seen great interest in Treo since we announced it in October, and we are pleased to deliver this exciting product to our customers. With Treo, we are introducing a new brand of communications products that will simplify the way people communicate and access information," said Ed Colligan, chief operating officer for Handspring.

The device costs $399 with a one year service contract, or for $549 without a service contract. Current VisorPhone owners can get a $150 rebate when purchasing a Treo without a service contract.

Unfortunately, the Treo won't ship to clients for another 1-2 weeks. Customers who choose VoiceStream as their provider will have to wait until Feb 25th.

Handspring plans to begin selling Treo in North American retail stores in the coming months as it expands distribution channels for its communicator family

The default US carriers for the Treo are Cingular and Voicestream. In Canada, Fido has agreed to carry it.

We have been awaiting the Treo release since it was announced back in October. VisorCentral has previously covered the Treo in our Comdex coverage from November. The Treo has a steel blue finish, and is available with graffiti or with a thumb-keyboard.


Copyright ©1999-2016 Smartphone Experts. All rights reserved : Terms of Use : Privacy Policy
VisorCentral is not not affiliated with or endorsed by Handspring Inc in any way.