visorcentral.com >> Products & Reviews >> Modules
Raycom Personal Massager




Product Info
Details Availability Pricing


First Impressions

When I first received the Raycom Personal Massager combo pack (the module and the power pack which I will talk about later) and opened the box, the first thing I noticed was the lightness of the springboard module. It is literally about the size and weight of a matchbox and when you compare this to the price and size of the EMS machines chiropractors use, you can really see how this product can be such a novelty device. After reading the small instruction handbook I inserted the springboard… no noticeable extra weight whatsoever to the Visor. Next all I had to do was stick the pads on to my body (I chose the neck first), plug in the pads to the module, click start, in and let the module do its thing.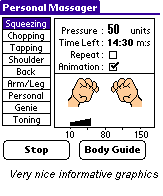 How it felt…

I didn't feel anything at first, but that is because the pressure was set at a setting of 10, in order to actually feel the massage you need to raise the pressure to at least 50. When I set the pressure to where it was noticeable, I first felt a really weird tingling feeling, but then after about 10 seconds it started to feel remarkably good. To all those skeptics out there, this thing really works and it was hard to believe that my Visor was actually providing me with such a well-done massage. On Thanksgiving I let my family have a try at it and my dad, who goes to a chiropractor, said that the module felt very similar to the EMS stimulation you can receive at the chiropractor. I am very pleased with how effectively the massaging works.

The Software >>



Copyright ©1999-2016 Smartphone Experts. All rights reserved : Terms of Use : Privacy Policy
VisorCentral is not not affiliated with or endorsed by Handspring Inc in any way.