visorcentral.com >> Products & Reviews >> Accessories
GoStyle
Product Info
Details
Availability
Pricing
| | |
| --- | --- |
| » | $49.95 (Executive Kit, Exotic woods) |
| » | $44.95 (Executive Kit, Standerd woods) |
| » | $39.95 (Deluxe Kit, Exotic woods) |
| » | $29.95 (Deluxe kit, Standerd woods) |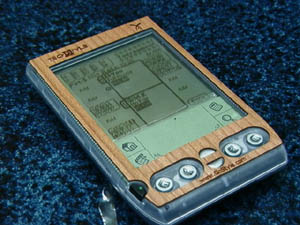 I was too cheap to buy a CD label applicator. You know, those pieces of plastic that hold a CDR in place while you apply a label.

So I've gotten really good at holding down the CDR's while I carefully lay a sticky label over the surface. One misstep, and the CDR is ruined. The sticky paper bubbles and rolls and cannot be pried off. That skill would serve me well while working with the GoStyle in Whiskey Cherry. TechStyle, the makers of the GoStyle promise to "transform your PDA from the mundane to the fantastic."

Well, the PDA was certainly transformed. It now has this cheesy piece of flexible wood stuck to it.

What I liked most about the GoStyle wood kit were the installation instructions. I knew I was in for a treat when I read that By following the simple instructions that follow, you will be able to add style and beauty to an essential part of your life. I think everybody needs a little style and beauty and if the GoStyle could deliver then I knew they had the best product ever.

I was especially comforted to know The application of this product has been designed with you in mind. However, this brought up several existential questions. I mean, who else would the application of the product be designed for if not for me. If it wasn't designed for a person like me, what kind of person could they have designed it for? Then I got paranoid. Maybe the GoStyle people had been spying on me. Watching me apply my CD labels. And they really did design this whole process around my needs. The product needs careful attention to 'centering' – something which I am now extremely proficient.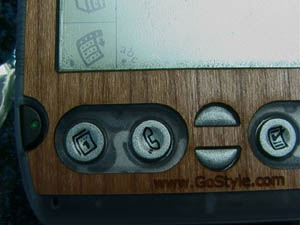 In fact, I have become more convinced that the process was designed for me personally  when I read Installation of the GoStyle kit is an "artistic" process. Practice centering the wood from left-to-right, top-to bottom That is just perfect. When I'm feeling most smug, I consider myself an artist (I'm a filmmaker with Master in Fine Arts). However, since I cannot draw or paint, sometimes I wonder if my MFA is really just some sort of sham. But I digress. Because step 9 is key to any artistic endeavor: Admire your handiwork. 

And I have admired my handiwork with the GoStyle. But I'm not quite sure what to make of it. It just looks like someone glued a faux wood strip to my Visor – even though the big claim to fame of the GoStyle is that they use real wood.. And GoStyle doesn't actually transform the Visor in the way that TechStyle implies. The Visor is still this fairly ugly piece of industrial plastic and 95% of it is still in evidence. Anyone who has tried to paint a wall without properly priming it will understand what I mean. Also, the GoStyle makes the buttons slightly harder to reach.
Although I haven't personally used one of the custom handspring cases, my bet is that is a better investment if you want to transform your Visor into a thing of beauty.


Conclusion >>



Copyright ©1999-2016 Smartphone Experts. All rights reserved : Terms of Use : Privacy Policy
VisorCentral is not not affiliated with or endorsed by Handspring Inc in any way.