visorcentral.com >> Products & Reviews >> Handhelds
Visor Prism
Product Info
Details
| | |
| --- | --- |
| » | Name Visor Prism |
| » | Company Handspring |
| » | Color Cobalt Blue |
| » | Memory 8 MB |
| » | Speed 33 Mhz |
| » | OS Palm OS 3.5.2.H |
| » | Battery Type Built in Lithium Ion battery |
| » | Weight 6.9 oz |
| » | Dimensions 4.8" x 3.0" x 0.8" |
| » | Fact Sheet & User Opinions |
Availability
Pricing
Color Apps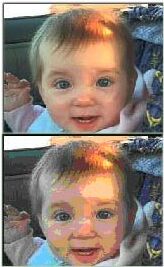 The Prism can use up to 65,536 different colors.  I was pleasantly surprised how many applications I used were ready for color.  TakeNote has a nice color icon, and Star Pilot has color settings for displaying the night sky.
Handspring has some software applications that show off how fun color can be.  Handspring Photo Album can show pictures in full 16-bit color.  Several sample photos are included that really show the difference between 8-bit (256 colors) and 16-bit images.  Photographs will especially look good on the Prism.  I have here a split image of one of the included samples.  Guess which one is 16-bit? 
  The difference is even more obvious when viewing on the Prism.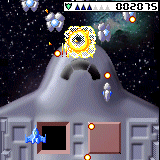 CityTime is also in 16-bit color and looks much better.  Other applications are already starting to come out for the Prism.  One application, Zap! 2016, will be the first arcade game in 16-bit color.  It's hard to believe that this screenshot is for a Visor application!
Even non-color applications will still look better on the Prism.  Title bars and dialog boxes are blue, and text highlighting is yellow.  I wish that the built-in applications would have utilized color more effectively.  The To Do list should have let me assign colors to its priorities, and DateBook+ should have free/busy/out-of-office color indicators like Outlook does.
One thing I noticed is that the screen flickers black then white when switching between 8-bit and 16-bit color applications.  This only happens when the application first begins -- it didn't happen when switching between photos in Photo Album, and isn't annoying.
Palm OS 3.5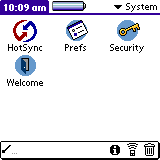 The Prism comes with Palm OS 3.5.2H, which adds some new features like Ir synching and a command menu.  Other features include the ability to beam entire categories and duplication of address book items.  One feature that I like is that you can now mask private items instead of hiding them.  Editing is also easier.  Double-tap to select an entire word, and triple-tap to select the entire line.
If you are upgrading from the Visor, there can be some "gotchas."  I use BackupBuddy, and my first HotSync installed some OS 3.1 files that caused my Prism to crash when I went in to Prefs | Network.  There are also some applications that do not work under OS 3.5.  I had to remove Matrix and Launcher III because of lockups, and the Liberty 1.0 caused a hard reset!  I think I'm going to trademark the phrase "Thank goodness for the Backup module" 
Is Palm OS 3.5 the panacea that Palm users have made it out to be?  Not in this reviewer's opinion.  I like the command-stroke menu (see picture) and not needing Menu Hack anymore, but only laptop users will find the new OS essential.

Speed >>


Copyright ©1999-2016 Smartphone Experts. All rights reserved : Terms of Use : Privacy Policy
VisorCentral is not not affiliated with or endorsed by Handspring Inc in any way.