visorcentral.com >> Products & Reviews >> Accessories
Universal Car Mounts
Product Info
Details
Availability
Pricing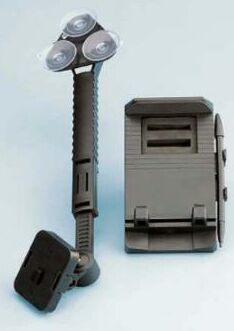 Is your car your office?  Do you cruise around making business calls from your cell phone?  Are you schmoozing to make deals even on the weekends, and need to update your contact list while driving from party to bar?  Would you like to mount your Visor to your golf cart as you drive around? 

If you're driven to succeed, and need to keep your Visor with you even while you're driving, then check out the universal car mounts by Arkon Resources.

Before I begin, I would like to say that sometimes life is ironic. Not long after I started a discussion about the evils of using a handheld computer while driving, I was asked to review the Arkon car mount.  I personally distrust people who use cellular phones for long conversations while driving, so this review will be from the standpoint of off-of-the-road-but-still-in-your-car Visor use.  Arkon also says on its packaging that you should not use their products whiled riving -- you have been warned.


Description

The Deluxe Windshield Mount (model CM226) has three suction cups that attach to your windshield and can be adjusted to match any angle, so this product is appropriate whether you're in a Lamborghini or a Mac truck.  The "arm" lays flat on your dash and can extend if needed.  The Visor is held by spring-loaded grips above and below it.  You can remove the vice grip from the arm if necessary. 

Usability

Using the included alcohol wipe, I cleaned the windshield of my car and then attached the suction cups.  I suggest you attach the top 2 cups first before the bottom one.  I then held the cups down while I adjusted the arm to rest on my dashboard while fully extended. 

To secure the Visor, stretch the bottom grip on the mount and insert theVisor.  There are cushions on the grips to prevent damage to your Visor,and the bottom grips can be adjusted as to which part of the Visor they are pressing against.  I just moved them to the outside corner of the Prism that I used.

In the car >>



Copyright ©1999-2016 Smartphone Experts. All rights reserved : Terms of Use : Privacy Policy
VisorCentral is not not affiliated with or endorsed by Handspring Inc in any way.