visorcentral.com >> Stories >> Hardware
New Memory and Charging Springboards


Tech Center Labs, known for its award winning Emergency Charger, and the talelight released a new "NiMH Emergency Charger Springboard module". This module enables emergency power for all rechargeable Visors. Just plug it in and it will begin to provide power to the Visor. It will recharge through the cradle. Available now for $49.95.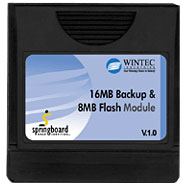 VisorCentral user Terrysalmi noticed these new springboards almost two weeks ago and we neglected to post about them. Now they have expanded their distribution and are available from a larger variety of sources. (PalmGear and BananaPC)

The WinTec line of springboards is a line of Flash and Backup Springboards which cost in some cases half of what Handspring charges. They use standard Handspring Backup software, or FileMover software. I am using the prices that BananaPC offers. Palmgear will vary. It is important to note that these are the cheapest standard flash modules yet, and they offer a new springboard: a 16 MB 8 MB backup.

16 MB Backup 8 MB Flash module = $85
16 MB Backup = $40
16 MB Flash module = $50
8 MB Backup 8 MB Flash = $55
8 MB Backup = $20
8 MB Flash = $40





Copyright ©1999-2016 Smartphone Experts. All rights reserved : Terms of Use : Privacy Policy
VisorCentral is not not affiliated with or endorsed by Handspring Inc in any way.