visorcentral.com >> Stories >> Hardware
"Prism replacement" Treo 90 has arrived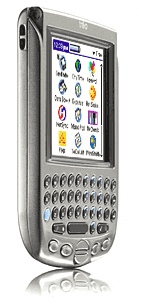 Handspring today announced the new Treo 90, a slim color organizer under the Treo moniker. We view the Treo 90 as the successor to the Visor Prism, which is now out of production. Long live the Prism.

The Treo 90 is thinner than the new Treo 270, and lacks all built-in wireless capabilties.

The PDA retails for $299 and will ship within 2-3 weeks. The PDA will also be available in retail stores shortly.

The Treo 90 is a color PDA, and uses the same screen as the Treo 270. The CSTN technology is 12 bit, 160x160 pixel resolution, and can display over 4000 colors. It is very similar to the screen used in the Palm m130. The Treo 90 has a built in Lithium-Ion battery that will last for 10 days.

Surprisingly, Handspring chose not to include a Jog-Dial with the Treo 90. They have cited lack of space as the reason for not including one. This is one feature that the staff here at TreoCentral really wished they included.



While the Treo 90 isn't the thinness of a Palm m515, or a Sony T-615c, it certainly is lighter. At 4 oz, it is one of the lightest PDAs on the market, and is at least 20% lighter than any other color PDA.

Handspring opted not to use Springboard technology in the Treo 90, mainly due to size constraints. Rather, the Treo 90 comes with a built in SD/MMC slot in the back. This allows the Treo 90 to use all SD software cards available on the market, plus standard memory cards.

TreoCentral will shortly add a SD/MMC area to our Products & Review database.

Unfortunently, the Treo 90 will not be able to use device SD cards that depend on SD I/O, such as the Palm Bluetooth card. We consider this to be a huge disappointmet, as a Treo 90 combined with a Bluetooth card and a Bluetooth capable cellphone would be a great alternative to the Treo 180/270. According to Handspring they can in the future offer a software upgrade that enables SD I/O.

Handspring has included a great software bundle with the Treo 90. The Treo 90 comes with Blue Nomad's highly acclaimed Wordsmith, which is my personal favorite word processor. It also comes with Blazer web browser, One-Touch email, and SMS software.

To take advantage of the built-in communication applictions, owners need to hook up the Treo 90 to data-capable cell phone, using either a cable or an infrared connection.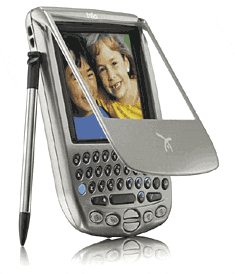 The Treo 90 runs on a slightly adapted Palm OS 4.1, the first use of Palm OS 4 in a Handspring device. Handspring has modified Palm OS 4.1 to have the same address book as the Treo 180/270 (minus the phone app integration), and included a modification called Focus which changes the launcher to allow you to use the scroll buttons and spacebar to launch applications.

The Treo 90 has a removable flip lid, and utilizes the same connector as the Treo 180/270 series. It comes with a USB cable, and travel charger. The case color is a Bronze, and for the first time ever for a Handspring handheld they were unable to hide the serial number and FCC information; thus like all Palm's and Clie's that ugly stuff is right on the back of the handheld.




Copyright ©1999-2016 Smartphone Experts. All rights reserved : Terms of Use : Privacy Policy
VisorCentral is not not affiliated with or endorsed by Handspring Inc in any way.