visorcentral.com >> Stories >> Hardware
New Medical niche modules


Two new medial niche Springboard Modules were recently released – an EEG monitoring tool and a glucose monitoring system.

The SNAP

The SNAP from VIASYS Healthcare is a single-channel EEG device that transforms a Visor into an EEG monitoring tool for tracking anesthesia's effect on brain activity.

As an important supplement to monitoring hemodynamic changes and patient reaction to stimuli, SNAP enables anesthesia professionals to reliably measure the effects of anesthesia on EEG in real time. SNAP is unique because it uses both the low- and high-frequency components of the EEG signal. A derived EEG measurement, the SNAP Index indicates the patient's brain activity level, which is processed for display in a time-based trend.

According to Gerald Brew, President of VIASYS' NeuroCare Division, "SNAP, a product of Nicolet Biomedical, is a clear extension into new anesthesia monitoring markets which leverages our EEG market leadership and three decades of neuro-related expertise. SNAP is the first of several unique VIASYS anesthesia products and the first hand-held product approved for use in the space-constrained Operating Room Theater."
SNAP has been cleared to market by the FDA, with commercial shipments anticipated to commence in July 2002.

"With the introduction of Nicolet's SNAP EEG Springboard module, we will now see the use of Visors by anesthesia providers expanding into the operating room," said Ed Colligan, Chief Operating Officer for Handspring. "SNAP is one of the first medical device Springboard modules, and a great example of the rich applications that Springboard expansion brings to the healthcare arena. Handspring looks forward to continuing our support of vertical solutions for Visor and the Springboard platform."

Combined with the convenience and versatility of a Visor handheld computer, SNAP gives the anesthesia provider the ability to automate and streamline day-to-day activities, increase productivity and provide improved patient care.

The FreeStyle Tracker

The second medical related module released is the FreeStyle Tracke Diabetes Management System, a first-of-its-kind glucose monitoring system that is integrated into a personal digital assistant. Available for use with the Visor, the new diabetes monitoring and management tool enables patients to test for glucose levels and get a read-out on the PDA screen, graph and chart the results over time, review carbohydrate food lists to track their food intake, create reminders about testing or dietary choices, and more. For doctors, the FreeStyle Tracker System provides a highly accurate time stamped progression of the patient's glucose levels as well as patient-entered events and data that affect their diabetic health to make better diagnoses and recommendations for the patient's diabetes care.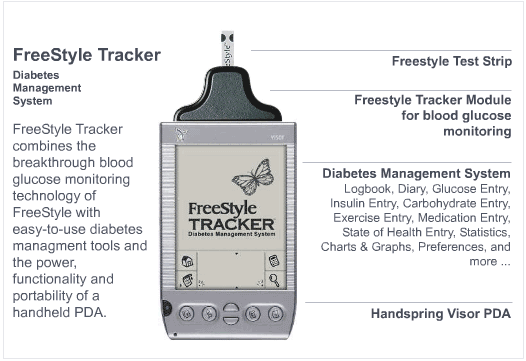 "We incorporated the blood glucose monitoring technology from our popular FreeStyle monitor into a module for the Handspring Visor PDA," said Mark Lortz, president and CEO of TheraSense. "You get the accuracy, alternate site testing capability and the world's smallest sample size of our virtually pain-free FreeStyle system combined with sophisticated diabetes management tools integrated into a PDA. Our hope is that FreeStyle Tracker will reduce the pain of diabetes management much like the FreeStyle system reduced the pain of glucose testing."

The FreeStyle Tracker System, will be sold in two configurations, with and without a Visor PDA. Both product versions are available.. Orders and inquiries can also be directed to TheraSense at 1-888-522-5226. TheraSense expects to offer the FreeStyle Tracker System through some of its national chain drug store partners and medical supply networks in the coming months





Copyright ©1999-2016 Smartphone Experts. All rights reserved : Terms of Use : Privacy Policy
VisorCentral is not not affiliated with or endorsed by Handspring Inc in any way.