visorcentral.com >> Stories >> Hardware
VisorPhone announcement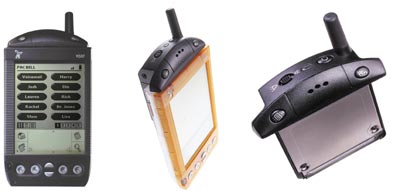 Handspring officially announced the VisorPhone today. The VisorPhone will be released later this year for $299 with the purchase of a service plan. Handspring will be the only seller initially of the VisorPhone, with European and retail availability in the first half of 2001. Here are some key sections from the press release:
Unparalleled User Experience

VisorPhone reinvents the phone experience by simplifying everyday mobile phone functions. VisorPhone's integrated software takes advantage of the easy-to-use Visor interface to make functions such as conference calling, caller ID, programming and using speed-dial numbers, detailed call history, and standard dialing functions fast and intuitive.

This ease of use is attributed mainly to the VisorPhone's integration with Visor's PIM (personal information manager) functionality. For example, when snapped into Visor, VisorPhone can instantly access thousands of numbers that can be stored in the Visor's Address Book. Simply tapping on a number and then tapping on the ``dial'' icon will dial any number in an individual record. In addition, any call received will be checked against the Address Book contents so that names of callers can automatically appear on the Visor screen to let a person know exactly who is calling. For frequently dialed numbers, VisorPhone supports up to 50 speed-dial numbers that can be created with ease. Calls can also be made by using an on-screen dial pad.

While the primary function of VisorPhone is making and receiving phone calls, it can also be used for a robust set of data functions including SMS (short message service) text messaging; wireless synchronization with a desktop computer; and when combined with third party software, wireless access to the Internet and email applications.

About VisorPhone

Designed and built in partnership with Option International of Leuven, Belgium, VisorPhone is a compact mobile phone module that extends slightly above and beyond the top and back of Visor itself. VisorPhone contains a battery, speaker, antenna, and three buttons: one to power VisorPhone on and off and two that allow a user to switch between voice and text messaging functions.

VisorPhone includes a headset that plugs into the module itself and enables a hands-free experience when using VisorPhone. The software interface designed for VisorPhone allows users to scroll through other applications while a call is in progress. For example, meetings can be added to the Date Book application or notes taken in the Memo Pad application while a call is in progress. This kind of functionality is unparalleled when compared to the traditional way of making a wireless phone call. Since all Visor handhelds come with a built-in microphone, VisorPhone can also be used by holding Visor to the ear like any standard mobile phone.

In addition to its extensive mobile phone features, VisorPhone offers a new and easy way to send and receive text messages. Short text messages are easily composed and sent to any email address or SMS-enabled phone. Numbers and email addresses can even be chosen directly from the Visor's address book. Incoming messages are easy to read on Visor, and outgoing messages are even easier to compose using graffiti to write or using a pull-down menu that includes short phrases like ``running late'' or ``call me.'' VisorPhone automatically stores text messages that are sent and received to be read, forwarded, replied to or deleted later. People needing access to other wireless data, email and Internet applications can add third-party software to Visor that will work seamlessly with VisorPhone.

VisorPhone operates on its own lithium ion battery. Talk time battery life is three hours and standby battery life is three days. VisorPhone comes with its own AC adapter and charger cable allowing users to recharge the module as they would a standard mobile phone. A charging cradle will be sold separately, which will allow people to re-charge VisorPhone when it is inserted into Visor and placed in the cradle.
...

VisorPhone Service Plans

VisorPhone operates on the GSM standard, the most widely used digital phone standard in the world, and is designed to function exclusively with the Springboard expansion slot. The GSM standard allows users to receive wireless coverage in over 4,600 cities and towns throughout North America. Handspring will sell service plans provided by four leading GSM carriers in the U.S. including VoiceStream, Pacific Bell Wireless, Powertel and Bell South Mobility. A one-stop shopping purchase and activation process available exclusively at Handspring.com will allow customers to easily choose the carrier and service plan that best fits their specific needs.

The service providers, not Handspring, will determine the pricing plans. Handspring expects pricing to be in line with typical pricing for all other advanced mobile phones today. Additional carrier information and activation details are provided at Handspring.com.
Handspring has also updated its website with a very cool flash demo of the VisorPhone. There's also plenty of photos and screen shots of the module in action. Discuss the announcement here.




Copyright ©1999-2016 Smartphone Experts. All rights reserved : Terms of Use : Privacy Policy
VisorCentral is not not affiliated with or endorsed by Handspring Inc in any way.