visorcentral.com >> Products & Reviews >> Accessories
RhinoPak 4000
Product Info
Details
Availability
Pricing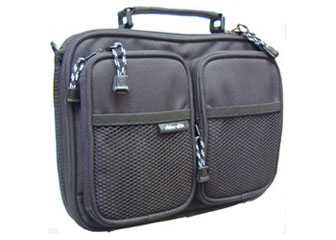 RhinoSkin is certainly known for well made and well thought out cases. The RhinoPak 4000 is their largest case, meant for Windows CE Pro or "Jupiter-class" handhelds. It's not particularly meant for Visors. 

But, since many of us own more than one PDA, and use Laptops, it can be a very useful case. I use a Windows CE z50 which is about the size of a sub-notebook, along with my Visor Prism and Targus Stowaway.

The RhinoPak 4000 opens clam-shell style at the main zipper. My IBM z50 fit snugly, perhaps a little too snugly. There is a thin zippered pouch on the back for manuals and papers. On the outside of the pack are two other zippered pouches for PDAs. My Prism fits nicely in one, and the Stowaway in the other. You could also store two Visors in this case if you wanted. There are credit card slots as well, but I felt that the nylon material they were made from was two slippery - my credit cards kept sliding out. It isn't as PDA specific as the other RhinoPaks. There are no special pockets for batteries or springboards. The pouches are more than large enough for batteries and a few springboards, there's just no specific provisions for them.
There is a hand strap that lets you carry the RP4000 like a briefcase, and there is also a longer adjustable detachable strap that can go over your shoulder. Although, I don't think you could fit anything too heavy in it that you'd need to use the shoulder strap.
There is considerable padding in the PDA-specific pouches, but not as much in the main case itself. I felt like my Visor had a lot of padding, but my larger z50 wasn't entirely safe. The case is 10" x 7" x 3", which makes it considerably smaller than a typical laptop case. If you use a larger Windows CE system with keyboard, or a sub notebook, this is an excellent and very well made case.

Conclusion >>


Copyright ©1999-2016 Smartphone Experts. All rights reserved : Terms of Use : Privacy Policy
VisorCentral is not not affiliated with or endorsed by Handspring Inc in any way.