visorcentral.com >> Products & Reviews >> Modules
Thinmodem Plus
Product Info
Details
| | |
| --- | --- |
| » | Name Thinmodem Plus |
| » | Company Card Access |
| » | Hard Cover Compatible: Yes |
| » | Color: No |
| » | Desktop Conduit: None |
| » | Size: 2.25" x 2.125" x 0.30" |
| » | Weight: 2.9 oz. |
| » | Memory: 32 K on Visor when inserted |
| » | Fact Sheet & User Opinions |
Availability
Pricing
Applications
Like other memory modules, the Thinmodem Plus uses File Mover to move applications and data between the Visor and module.  For details on how File Mover works see the Handspring Flash Module review.  As I said earlier, many online applications several hundred kilobytes of memory.  Since databases oftentimes don't work in flash, I moved my online applications like AOL Instant Messenger and Blazer to flash memory, as I won't be using those applications when I'm offline anyway.  Browse-It and One-Touch were already in flash, so I left them there.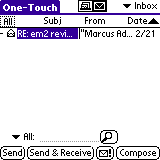 Browse-It is the first 16-bit color web browser for the Palm OS.  It is based on Proxiweb, which Puma Technology bought out.  As such, it's very fast, although you must have an account (included) to use the software.  I'm not going to discuss the application here and will instead feature it in a future web browser comparison article.
One-Touch, by JP Systems, is a POP3 mail program.  It should look familiar, as a version of it is included with the OmniSky module.  One-Touch has a fair amount of features, including VCal and VCard support, but it is not a color application.
Although bundling of software is nice, I see it as somewhat unnecessary given the number of web browsers and email clients available for the Palm OS.  Since Handspring has purchased Bluelark Systems, we may be seeing Blazer included with future Visor models.  This would allow module makers to forgo the licensing of a web browser to include with their products.
Usability
In terms of functionality, the Thinmodem Plus cannot be beat.  The innovative Status Monitor should be used in all communications modules, and as I've said before, is one of the most innovative features I've seen in a Springboard module.  By tapping on the lower right-hand corner of the Visor's screen (by the Find button) you can get a real-time status of your connection speed and how much data has been transferred/received.
By default V.90 (56K speed) is turned off because it can cause longer connect times.  Go into the Thinmodem Setup application and tap Thinmodem+ Preferences to change this and other settings such as speaker volume.
The 56K modem doesn't' seem to be much faster than a normal connection, and I had trouble connecting at higher speeds in my old apartment.  High modem speeds aren't a major issue with handheld computers because of the low amount of data that is being transferred.  Perhaps this is why Palm still hasn't released a fully USB-capable handheld.  Anyway, I doubt the 56K speed is the deciding factor for those that purchase the TM+.
The 6' adapter cable plugs snugly (almost too snugly) into the top of the module when you go online.  You can also purchase an optional adapter that's less than four inches long and allows you to plug into any RJ-11 phone cable.  I keep one in my briefcase so I don't have to worry about leaving the cable at home anymore.
USB FileMover
To sweeten the deal even more, by using the bonus software USB FileMover (UFM), Thinmodem Plus users can install applications directly to the Visor or TM+'s memory without using HotSync.  This is very handy for when you want to quickly install an application or when your Visor's memory is too full to let you install something.  Alas, UFM only works with Windows, so I can't use it with my Apple PowerBook G4.  On my Windows PC, however, transfers were vary fast.
You can copy files to/from the module's memory and can even copy hidden applications like FileMover to your desktop.  UFM only works with Card Access products.  Other flash memory modules can copy data to your desktop but not vice versa.  I think Card Access should make a version of UFM that works with other modules and sell it.  I know people would buy it.  You can download UFM from Card Access' support section.  

Conclusion >>


Copyright ©1999-2016 Smartphone Experts. All rights reserved : Terms of Use : Privacy Policy
VisorCentral is not not affiliated with or endorsed by Handspring Inc in any way.