visorcentral.com >> Stories >> Business
Sony's new handheld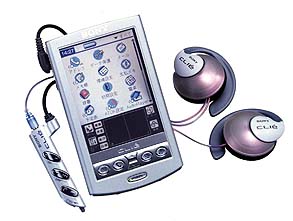 Sony announced today the PEG-N700C, a new Palm OS compatible that is packed with multimedia features. VisorCentral reader Dean over in Japan sent in the following (edited) email, which summarizes the handheld's features:

Sony plans to release an upgraded version of their popular (in Japan) Clie series PDA starting April 7. Online reservations open next week on March 21. The new device is named the Clie PEG-N700C, and it has a very striking appearance. They are currently taking votes online for which type/color of flip over cover you prefer.

Check it out here.

Even if you cannot read Japanese, you can see what this multimedia
device looks like, and if you are familiar with reading a spec sheet, clicking the third button from the left in the navigation bar across the top of the page takes you to a table listing the vitals. Notice the 33 Mhz DragonballVZ processor. Look familiar? 8 MB of onboard RAM (7.x MB available to users) plus the usual Sony Memory Stick slot (now with a spring-loaded flap). The other 8 MB you see is the standard 8 MB Memory Stick they throw in for free, and this can be used to store apps, data, photos, whatever.

Other features of note:

"Front-lit" TFT screen at 320 x 320 resolution. Looks like a new technology to give you clearer text and graphics in the same area as a standard Palm screen! (If you don't believe me, check out the physical dimensions at 71.0 mm wide x 118.5 long x 16.8 mm thick--which are almost exactly the same as the PEG-500C that I own.

Comes with stereo headphones, in-line remote control, USB cradle, AC adapter, soft cover, install CD, & stylus

Up to 11 hours of continuous music listening with the display turned off; 3 hours with it on (while you work?)

Up to 15 days on one charge of the lithium polymer internal
rechargeable battery (your actual mileage may vary)

Comes with a load of (proprietary) multimedia apps designed to
maximize the user experience in sound, still photos, motion video and web channels.

You can take the Memory Stick out of your Sony digital or video camera and pop it into the Clie for instant viewing and/or sending of images/short video clips to friends over the Internet by using the cellular phone module and adapter cable (three cable variations in addition to the module available all as options to accommodate all popular portable phone protocols in Japan).

The music you download to/record on your Vaio notebook or desktop can be written to a Magic Gate memory stick (copy guard built in; appears to accept Sony's proprietary ATRAC format only) then popped in for music to go. It appears that regular "purple" memory sticks can still be used to store apps, but it is still unclear whether you get live access or not. Probably Sony's MSGate software allows you to move the app you wan to use back and forth like File Mover.

No mention of this but if Sony follow suit, the software will be
Windows only, preferrably Sony Vaio. Some Mac users in Japan have come up with their own creative software to get around this annoyance for the previous Clie models.
Thanks Dean! No US date yet for the 700 (or the color 500C) or pricing. Here's a Reuter's article on the new Sony handheld as well.

Ok Handspring, Sony has thrown down the gauntlet. If they can use Palm OS 3.5 with a high-res screen, so can you. I got in the Visor Edge today and while my initial response was "Holy **** that's thin!", I really want a color version.





Copyright ©1999-2016 Smartphone Experts. All rights reserved : Terms of Use : Privacy Policy
VisorCentral is not not affiliated with or endorsed by Handspring Inc in any way.