visorcentral.com >> Products & Reviews >> Accessories
Tri-Fold Executive Leather Case
Product Info
Details
Availability
Pricing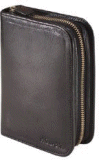 The Tri-Fold Executive Leather Case from RhinoSkin is crafted from first quality Italian leather. It measures 5.75" x 4.5" x 1.5" and will hold any PDA device (not just a Visor) up to 5.25" x 3.25" x 0.8". Available in either black or brown, it weighs approximately 4.5 ounces and comes equipped with a heavy duty brass zipper.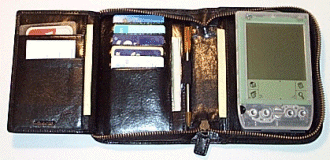 Inside the Tri-Fold are slots for up to 5 credit cards and two larger pockets for cash, receipts, or other paperwork. An inner hinged flap (hence the name tri-fold) has four larger slots, one of which will hold a notepad up to 3" x 5" (Day-Timer Lined note Pages #87415 fit perfectly). There's also a stylus holder that can accomodate a small pen as well. All this makes the case usable as a wallet or purse in addition to carrying your trusty PDA.
Your Visor is held in the case using Velcro. There's a 2-1/2" x 4" patch sewn inside the case and three self-adhesive mating pieces (3/4" x 1-1/2") are provided to attach the PDA. The Visor, Visor Deluxe [review], and Visor Platinum [review] can be held in the case by applying the Velcro to the snap-on hard cover or to the back of the units themselves. To hold a Visor Prism [review], the Velcro will need to be applied directly to the back of the unit since the hard cover doesn't snap on the back. Using the hard cover attachment method makes using the Tri-Fold similar to one of the Handspring cases with the "sewn-in attachment" device but also adds to the overall thickness when placed in the case. A benefit of using the hard cover is the ability to place the Visor backwards to further protect the sensitive LCD screen.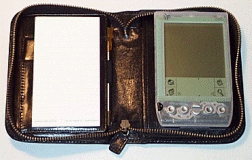 There's a rigid material sewn inside the front and rear covers that offers a fair amount of protection to items inside. Plus, the way the case is sewn creates a sturdy ridge all around the outer edges that will help absorb some of the force from an accidental fall. The overall protection offered by the Tri-Fold is better than the standard leather slip-case but not as good as a hard cover.
The Tri-Fold is intended to be hand carried or placed in a briefcase, purse, or backpack. Its overall size is a bit too large to allow carrying it in a pants pocket, though you can put it in a jacket pocket without much trouble. To use your Visor with any oversized modules or external accessories like a keyboard requires that it be removed from the case. This applies to HotSyncing as well.
A fellow VisorCentral member recently asked if the case would hold Springboard modules. The answer is no. While a standard sized module can be slipped into one of the pockets, the added thickness is too much to allow the case to be closed properly. Even when used as intended to carry a few credit cards, some cash, and a notepad, the case, when closed, is a very tight fit. All of this results in increased pressure being placed against the LCD screen.

Conclusion >>


Copyright ©1999-2016 Smartphone Experts. All rights reserved : Terms of Use : Privacy Policy
VisorCentral is not not affiliated with or endorsed by Handspring Inc in any way.