visorcentral.com >> Products & Reviews >> Accessories
Dockers Mobile Pants Revolutionize Pocket Design
Product Info
Details
Availability
Pricing
| | |
| --- | --- |
| » | $52 (Black ) |
| » | $52 (Khaki) |
Introduction
Your probably wondering what a clothing review is doing on VisorCentral, but these aren't just any pants…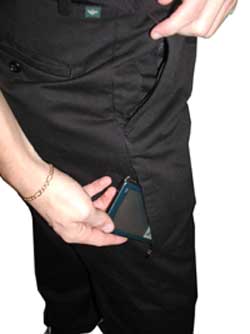 Visor, Cell Phone, Keys, ID, Handkerchief, Change, Wallet, and Hands-free Earpiece are just some of the many essentials I carry around daily in my pockets. Even though many of these devices are getting smaller, I have two large annoying bulges of stuff at my sides. Realizing this is a problem, Dockers has introduced a new brand of pants, Dockers Mobile Pants, with a unique variation of the design of pants pockets.
Now, the mobile user has extra pockets to keep their cell phone, PDA, wallet and more safely tucked away, hidden from view. The pants also come with special hidden pockets designed to secretly store things like money, change, keys, or other things the user wants to keep out of a pick pockets hands.
Design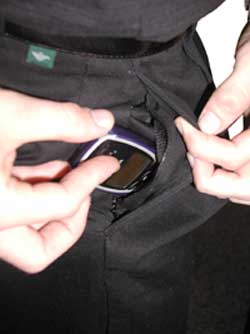 The Dockers Mobile Pants are available in two colors, Black and Khaki, and in most sizes. The pants feel and seem the same as any other standard Dockers Pants. However, instead of a button like most Dockers, there is a hook and eye closure. This type of closure is to prevent wear on the waist from heavy objects in the pockets. The Mobile Pants come with the standard two rear pockets and two front pockets. Plus, three special pockets designed for the Mobile Pants.
On the outside of both legs there are "stowaway seam pockets". These pockets are specifically designed for a PDA, cell phone, Stowaway Keyboard, or anything else you can think of. The pocket size is roughly 4.5" wide and 5" tall. The pocket zips shut and "seamlessly" blends in with the seam of the pants.
In the left front pocket there is a "hidden zip vault pocket." This pocket is the same size as the normal pocket and lies directly behind it. The vault pocket is accessible by a small zipper at the opening of the left front pocket.

Usability >>


Copyright ©1999-2016 Smartphone Experts. All rights reserved : Terms of Use : Privacy Policy
VisorCentral is not not affiliated with or endorsed by Handspring Inc in any way.