visorcentral.com >> Products & Reviews >> Accessories
Dockers Mobile Pants Revolutionize Pocket Design
Product Info
Details
Availability
Pricing
| | |
| --- | --- |
| » | $52 (Black ) |
| » | $52 (Khaki) |
Usability
These pants feel the same as all the other Dockers I own, even with all my gadgets in the pockets. I did a two day test of Dockers pants. Day one was devoted to my old pair of khaki Dockers. Day two was the day I strut my stuff in my new Dockers Mobile Pants. Each day, I carried the same objects around with me: wallet, Nokia 8290 cell phone, Visor Edge, Stowaway Keyboard, keys, ID holder, change, sunglasses, and the hands free headset for my cell phone. Day one was rough, I usually never carry this much in my pockets; in fact, I have never carried a stowaway in my pocket. However, I wanted to overload myself to see which pants handled the load better. With my old standard Dockers, things were difficult. Not only did I look strange with huge hips, but it was difficult to find anything in my pockets. Sitting was also a nightmare; I had troubles getting comfortable with all this "extra baggage". Day two was much better. I started the day like any other, loading my pockets:


| | |
| --- | --- |
| Rear Pocket: Wallet | Left Pocket: Sunglasses Cell Phone |
| Right Pocket: Keys Hands free Adapter | Vault Pocket: Change Cash |
| Left Seam Pocket: Stowaway | Right Seam Pocket: Visor ID Case |

All the problems I faced with the other pants went away. The pockets felt a lot less full, and diving into my pockets to find things was a breeze. I tried many objects, different PDAs, accessories, visors with modules, different phones, and more. The general consensus was, the pants really work! They made organization easier, and kept my pockets from feeling too full.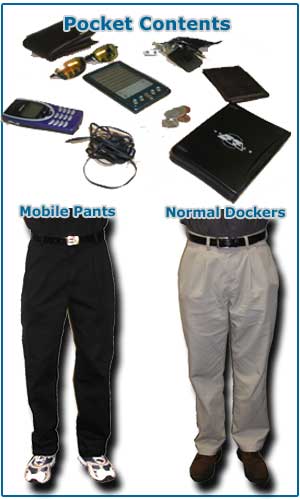 The main benefits of these pants are security, safety, and organization. Security is an important feature. It is difficult to loose you cell phone when it is zipped up in a pocket. As long as you keep your pocket zipped, you have no chance of your device accidentally falling out. These pants also keep your devices, cash, credit cards ect. secure from theft. All of the pockets are zipped shut and hidden from plain view. If someone wanted to steal your cell phone, he would first have to find the pockets and then un-zip them to get at your property.

Safety for your devices is also key. By safety I mean, physical protection. We pay a lot for out Visors, cell phones, sunglasses ect. Then, we abuse them by putting them in our pockets with other scratchy objects such as keys. With Mobile Pants, you can separate your devices from your keys and protect them from becoming scratched or smudged.

Dockers Mobile Pants aid organization as well. Now, objects can be organized by pockets. Meaning you will never have to search through your pockets to find your keys again.

Problems >>



Copyright ©1999-2016 Smartphone Experts. All rights reserved : Terms of Use : Privacy Policy
VisorCentral is not not affiliated with or endorsed by Handspring Inc in any way.