visorcentral.com >> Products & Reviews >> Accessories
Slipper Visor w/ Clip
Product Info
Details
Availability
Pricing
| | |
| --- | --- |
| » | $34.95 (w/ Clip) |
| » | $31.95 |
Belt Clip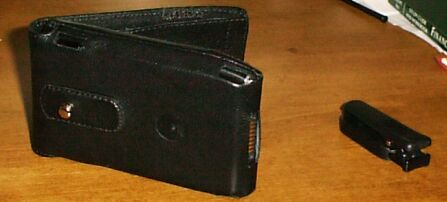 The Slipper Visor also comes in a beltclip version that allows you to have your Visor quickly available.  The metal nub does not stick out much, so the case will lay flat.  The belt clip is slightly different than the one for the Rhodiana Visor Case in that it is not as wide and the Visor comes out horizontally instead of up when you detach it;  the clip is almost not wide enough, as it shifts around sometimes when on a belt.  However, the beltclip does allow the Visor to be rotated more easily than the clip for the Rhodiana Visor Case., and the Slipper Visor never gets in the way.  I can drive comfortably with the Slipper Visor attached even though I'm wearing a seat belt.

The Slipper Visor case itself is very professional looking.  I think the small E&B logo on the flap gives it an elegant look.  The slimness of the case allows for a sleek look when you wear it on your belt --   in fact, it looks more like you're wearing a cell phone than a PDA.

Conclusion

The E&B Company Slipper Visor is a very elegant leather case whose key feature is the ability to HotSync while the Visor is still in the case.  Once you get the hang of syncing, you will never need to remove the Visor again except for replacing the batteries.



Criteria

Rating

Design
4
Protection
2
Usability
3
Cost/Benefit
3
Overall
(not an average)

Pros
- Syncs w/ Visor in the case
- Attractive leather
- Works with the Stowaway

Cons
- Syncing a little tricky
- flap held by velcro
- plastic covering may bother some users
Copyright ©1999-2016 Smartphone Experts. All rights reserved : Terms of Use : Privacy Policy
VisorCentral is not not affiliated with or endorsed by Handspring Inc in any way.