visorcentral.com >> Products & Reviews >> Accessories
RhinoPak 1100
Product Info
Details
Availability
Pricing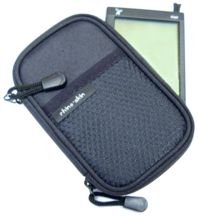 One of the most exciting aspects of the Handspring Visor is the Springboard module capability.  Users can expect everything from GPS to text scanners to use with their Visors.  The only problem is where do you keep your Springboard modules when they aren't in use?  The RhinoSkin RhinoPak 1100 (RP1100) not only lets you carry your Visor and the Springboard modules that you need, it allows you to carry them in a case that doesn't make the Visor too bulky.
One thing that I like about the RP1100 is that it doesn't overwhelm you with a bunch of compartments.  The front of the case has a netted pocket that can hold a Springboard module; inside the RP1100, there is room for business/credit cards as well as up to two more modules.  On the back of the case there is a strap that can be attached with a snap.  As you can see in the pictures, zippers on the RP1100 are easy to get to because of the extensions on them.
Usability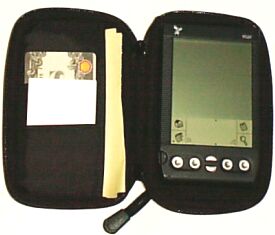 The RP1100 is the best case for users that want to carry the Visor and up to three Springboard modules.  The case is not very large and easily slips into a purse or coat pocket.  Even modules that are larger than the standard size can be held by the RP1100.  I like the fact that I can attach it to luggage easily, and you could conceivably attach the case to your belt, although removing it could be tricky.  The padded foam in the lining of the case provides decent protection for the Visor.
Depending on your pockets, this case may be a little too big for them, especially if you are also carrying several Springboard modules around.  What you can do is unsnap the strap on the back of the RP1100 and carry it by holding the strap.  You can also carry the RP1100 like a book.
To secure the Visor, place the hard cover under the straps and then the Visor on top.  If you secure the Visor this way, make sure you don't have anything sharp on the left side of the case that may scratch the screen.  This holds the Visor in securely.  You could also forgo the hard case and use the straps by themselves to hold the Visor.

Conclusion >>


Copyright ©1999-2016 Smartphone Experts. All rights reserved : Terms of Use : Privacy Policy
VisorCentral is not not affiliated with or endorsed by Handspring Inc in any way.