visorcentral.com >> Products & Reviews >> Modules
SoundsGood
Product Info
Details
Availability
Pricing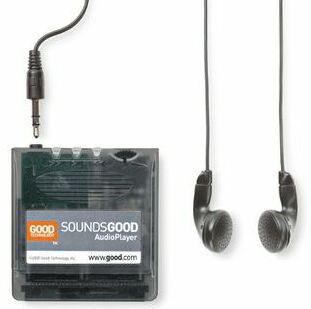 Seemingly overnight there is now competition in the MP3 Springboard market.  Now we have the SoundsGood MP3 player from Good Technology.  This standard-size Springboard module has shaped up to be -- pretty good!

Physical Specifications

The SoundsGood is a standard-size module, sticking out less than two millimeters above the Visor.  Even though it's standard-size, the SoundsGood still has hardware buttons that let the user change tracks while in another application and a wheel to adjust the volume.  A headphone jack completes the external hardware on the SoundsGood.  Earbud headphones and a carrying case are also included.

Good Technology includes some of the following songs on the SoundsGood so you can listen to it outside the box.  These are also on the installation CD if you need them again:

Five Point Plan - "Live Today"
The Color Red - "Smile"
Good Technology - "Welcome to SoundsGood"
The Salt Brothers - "Captain Morgan"
The Salt Brothers - "Go Ahead"
Randi Driscoll - "What She Said"
Soul Cracker - "Too Far Too Hard"
Gregory Page - "The Banks of the Ponch"


Good Desktop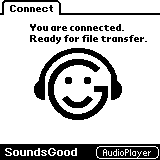 Mac users can stop reading now -- the SoundsGood does not support the Mac platform.  Serial cradles will not work either with the SoundsGood.  Only Microsoft Windows 98, Windows 2000, & Windows Me via USB are supported.  Good Desktop is the basic software that is used to upload files from the desktop to the Visor.  One nice thing is that it completely bypasses HotSync, making the uploading of songs faster.  Uploading files is easy:
Run Good Desktop on the PC.
Put the Visor in its cradle and either run the Connect application or tap Connect from within AudioPlayer.
Once a connection is made, click the My Computer button to bring up a list of all of your MP3 files on your PC
Drag-and-drop files from the listing or an Explorer window to the main Good Desktop window.
Click MediaSync Now to begin transferring files to the SoundsGood.
In my testing, it took  a mere 17 seconds to transfer a 4040 KB file, for a whopping transfer speed of 13.9 MB/min when using the Good Desktop to transfer songs to the SoundsGood under Windows 98.  This is a fantastic speed -- Good Technology hired someone who's very well respected in the Unix world to write the USB driver, and it shows.

MusicMatch >>



Copyright ©1999-2016 Smartphone Experts. All rights reserved : Terms of Use : Privacy Policy
VisorCentral is not not affiliated with or endorsed by Handspring Inc in any way.