visorcentral.com >> Products & Reviews >> Modules
OmniSky
Product Info
Details
| | |
| --- | --- |
| » | Name OmniSky module |
| » | Company OmniSky |
| » | Width: 2.6" |
| » | Length: 5.0" |
| » | Length (external to Visor): .73" |
| » | Thickness: .32" |
| » | Weight: 4 oz |
| » | Fact Sheet & User Opinions |
Availability
Pricing
Now you can cut the phone cord and take your Visor completely wireless. Scott takes a look at Omnisky, one of several services that uses the Minstrel S modem.
Installation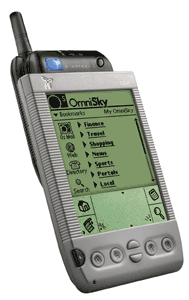 The OmniSky wireless service uses the Minstrel S Springboard Modem. Out of the box you are presented with the Springboard modem itself, the installation CD, the AC Adapter, and an OmniSky Leather Case. The case doesn't fit the Visor Prism when the Modem is inserted, although it's clear from the cut of the leather that it's meant to fit.
Installation is easy. When you insert the Springboard for the first time you are prompted to install the OmniSky software. There is only a "Start" button, you aren't given the option to leave the software on the Modem's Flash Ram. It installs around 750K of software, the OmniSky main app, the OmniSky Mail app, Yahoo! Messenger, Support for PalmVII-style PQA Web Clipping Applications. Also installed are the Minstral Modem Manager and the Turn Modem Off app. 
The included CD walks you through an activation wizard, that generates the activation code to program the modem, and associate your billing account with that particular modem. (Don't lose your modem!) It also can configure your Email accounts, and installs a ScoutSync conduit on the desktop. (More on ScoutSync later) Once you've run the install app, you just insert the Minstrel Springboard and you're on the Net!
Needless to say, all these apps can be difficult to swallow if you don't have around a meg of memory free. Another unfortunate problem is that even if you delete the applications you don't want, like Yahoo! Messenger, the next time you insert the Springboard it will prompt you to reinstall over "Your incomplete installation." The Minstrel modem includes a megabyte of internal flash RAM, but OmniSky doesn't include the Minstrel FileMover Application so you can access this memory. So, the Modem contains just installation routine for the OmniSky-branded apps.
Hardware >>
Copyright ©1999-2016 Smartphone Experts. All rights reserved : Terms of Use : Privacy Policy
VisorCentral is not not affiliated with or endorsed by Handspring Inc in any way.