visorcentral.com >> Products & Reviews >> Modules
YadaYada




Product Info
Details Availability Pricing



Now you can cut the phone cord and take your Visor completely wireless. Scott takes a look at YadaYada, one of several services that uses the Minstrel S modem. Installation

The YadaYada wireless service also uses the Minstrel "S" Springboard Modem from Novatel Wireless. When you open the YadaYada box you have the modem, the installation CD, an AC Adapter for charging the modem, and an instruction manual.

Installation of the YadaYada is easy - faster and easier than OmniSky. When you insert the Springboard for the first time you are prompted with an install screen. My sample modem was loaded with the new YadaYada 3.1 software. If you are an existing YadaYada customer, you can download this upgrade for free at YadaYada. The last version of YadaYada's software included an option to copy the YadaYada software to the Visor's main memory, or (Thank Goodness) the much-needed choice to keep the software on the Minstrel's built-in Flash Memory. This was a huge benefit for 2Meg Visor users or hardcore Visor Prism guys like myself who have to make daily decisions on what databases to keep and what to delete. In this new version it's unfortunate that there's no longer a choice. I spoke to YadaYada, and they said that the new 3.1 version keeps the YadaYada browser local to make QuikSnaps (offline pages) available when the modem isn't plugged in. This takes up about 400K.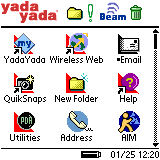 One unusual feature is YadaYada's choice to replace your application launcher with the YadaYada launcher without asking. The older version asked, while this new YadaYada 3.1 simply makes the change without a prompt. The YadaYada software includes a color app launcher of it's own, with the YadaYada logo prominently displayed. This is fairly irritating. It appears they do this to better control what you see. They add specific YadaYada icons in their launcher that don't appear in the standard Palm Launcher. The YadaYada Launcher does have an uninstall option, however.  As with most smart launchers, a dot appears next to those applications that are stored in Flash Ram, thereby not taking up our Visor's precious main memory. It's a fairly innocuous launcher, and I have no complaints with it per se, other than what I believe to be the inaccurate presumption that a power user (one that is likely to buy a wireless springboard) would want to replace their already customized 3rd party launcher with yet another. This change can also be confusing for the novice user, as well as frustrating for the power user.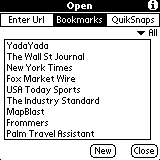 YadaYada installs the same core Email application that OmniSky uses, which is unfortunately in black & white. YadaYada's email app does have some extra feature OmniSky's lacks - more on this later. Also present is the Minstrel Modem Manager and support for offline AvantGo-style "QuikSnaps," which YadaYada includes as a free service. QuikSnaps act just like offline bookmarks. 
The Minstrel modem includes a megabyte of internal flash RAM, and YadaYada's competitor, OmniSky, doesn't include the Minstrel FileMover Application so you can access this memory. YadaYada, on the other hand, has wisely chosen to give this choice to users of it's service. It works like most FileMover style apps, allowing you to move most Applications and read-only Databases to Flash Ram. If you envision keeping your YadaYada modem in your Visor all the time, the addition of this extra meg of RAM is a free benefit to using the YadaYada service. 

The Hardware >>


Copyright ©1999-2016 Smartphone Experts. All rights reserved : Terms of Use : Privacy Policy
VisorCentral is not not affiliated with or endorsed by Handspring Inc in any way.