visorcentral.com >> Products & Reviews >> Accessories
Slipper VSR
Product Info
Details
Availability
Pricing
| | |
| --- | --- |
| » | $52.95 (With Clip) |
| » | $49.95 (No Clip ) |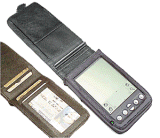 The E&B Slipper VSR Convertible is a finely-crafted leather case based on the original Slipper, and is made for the Visor, Visor Deluxe, and Visor Platinum. Prism owners can look at the Slipper Prism, recently reviewed by VisorCentral.

This latest version now includes a removable wallet. Available in black or burgundy, it measures approximately 5.25"x3.25"x1.5" when closed. It can be purchased with or without E&B's high tech belt clip. The case has a single slot for business/credit cards along with a slightly larger slot for a couple of folded bills. Gone is the clear plastic strip that covered the Visor buttons. Instead, the entire LCD area and buttons are exposed within the case opening.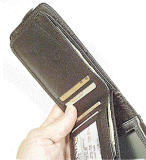 The removable wallet offers a full-sized money compartment, 3 card slots, and a clear windowed ID slot (for licenses, pictures, etc). When loaded with 3 credit cards, a driver's license, and 7 or 8 bills, the wallet by itself measures approximately 5.0"x3.0"x.375". It's small enough to be carried in a shirt pocket and fits nicely into front or rear pants pockets as well. It attaches to the main case via a small diameter metal rod that's sewn into the case. You simply slip it on and off to insert or remove it. In terms of security, the fit is snug so it won't slip off by itself. However, since all leather stretches somewhat, I cannot say whether this will be a problem after extended use. My feeling is that as the leather breaks in, the "slip" will become easier, but I don't foresee the wallet falling out by itself.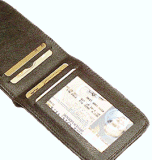 There are the appropriate cutouts for the IR window, stylus access, and the power button, as well as a small hole over the microphone and a reset hole on the back. As with the original Slipper, the front flip cover contains a rigid insert for screen protection when used without the wallet. The Velcro strips used to hold the old cover closed are gone from this model. Instead, a leather tab sewn to the front cover wraps around the bottom of the case and attaches at the rear. Velcro is used to fasten the tab, but it's not as loud or obnoxious as the original. E&B warns the "this case is not intended to be carried in your rear pocket". This is due, in part, to the increased bulk when the wallet is inserted.
Unfortunately, using oversized modules with the Slipper VSR is impossible. While any standard module can be carried in the Visor/Slipper combo, the snug fit along with the wallet attachment precludes the use of bigger modules. Those of you with the Minstrel wireless modem are out of luck, I'm sorry to say. VisorPhone users can look at the new Slipper VSR-Cell which is designed to accommodate the Visor/VisorPhone combo but doesn't have the removable wallet (also available for the Prism).

Usability >>


Copyright ©1999-2016 Smartphone Experts. All rights reserved : Terms of Use : Privacy Policy
VisorCentral is not not affiliated with or endorsed by Handspring Inc in any way.