visorcentral.com >> Products & Reviews >> Accessories
FlipCover
Product Info
Details
Availability
Pricing
Usability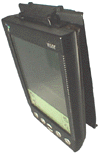 Installing the FlipCover is as simple as removing the Springboard slot cover and popping in the FlipCover. It comes fully assembled so it can be attached to your Visor within seconds after opening the package. Size-wise, the module cover adapter only adds about 1/8" to the overall length of the Visor. The cover, when closed, makes the Visor virtually the same size as it would be with the OEM hard cover installed. There is no noticeable weight increase, either.

The cover itself is a perfect fit on the Visor. There are no gaps along the edges of the screen and the buttons are adequately covered. While it appears to be not as thick as the original cover, it is very sturdy and has almost no flex to it at all. When closed, the FlipCover securely snaps shut using the retention slots on the cradle connector. The tabs that allow this are tapered so that, with practice, you can flick your wrist and have the cover flip around and snap shut by itself (this procedure requires some practice... don't try this at home if you're afraid of dropping your Visor).

While the FlipCover will open 360 degrees to fit flush to the back of the Visor, the tab where the cover snaps shut prevents you from laying the Visor flat on a desk or table. To use on a flat surface, you can only open the cover 180 degrees. The design allows the use of the HotSync cradle and even external peripherals like a Stowaway or GoType! keyboard without having to remove the cover. Access to the stylus is not hampered and the IR window remains exposed as well.
About the only bad news about the FlipCover is that it cannot be used in conjunction with Springboard modules. Well, not easily, anyway. FlipCover.com has developed a self adhesive adapter that can be attached to standard sized modules and still allow full use of the cover. This works well with modules like the Backup and 8mb Flash, but cannot be used with something like a Thinmodem (the adapter covers the connector for the phone cable). This adapter must be installed on the modules themselves which means you'll need to purchase one for every module you intend to use it with. You'll also have to remove and reinstall the cover when changing modules.
The folks at FlipCover have recently announced that another adapter will soon be available that will allow the use of a FlipCover with virtually any module, including oversized ones like a SpringPort Modem. This new adapter will attach to the Visor itself meaning you won't need to remove the cover when swapping modules. Also, it will not allow the cover to open a full 360 degrees... it will be limited to approximately 120 degrees or so. Unfortunately, the prototype they sent me did not work with the module housing used by the Handspring Modem. In fact, it won't work with any oversized module that comes flush to the front face of the Visor (this includes all modules based upon the ATL Battery Module housings). Zee from FlipCover.com tells me they'll be going back to the drawing board to resolve this issue.

Conclusion >>


Copyright ©1999-2016 Smartphone Experts. All rights reserved : Terms of Use : Privacy Policy
VisorCentral is not not affiliated with or endorsed by Handspring Inc in any way.