visorcentral.com >> Products & Reviews >> Accessories
FullCharge
Product Info
Details
Availability
Pricing
| | |
| --- | --- |
| » | $69.95 (100v to 240v AC adapter, Auto Adapter, battery, battery cover ) |
| » | $54.95 (Auto adapter, AC adapter, battery, battery cover) |
| » | $49.95 (100v to 240v AC adapter, battery, battery cover and country plug adapter) |
| » | $34.95 (Auto adapter, battery, battery cover) |
| » | $34.95 (AC adapter, battery, battery cover) |
Installation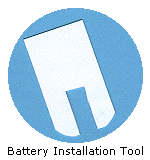 Getting the FullCharge battery pack into the Visor battery compartment is a bit of a challenge. Since the pack contains a built-in receptacle for the charger, its fit is rather snug. Supplied in the kit is a Battery Installation Tool, a small, plastic "shoehorn" device that is used to help compress the battery spring to enable insertion of the FullCharge. It's a bit tricky and took me several attempts to get the battery installed. I was hesitant to force it down into my Visor. eXtend states that the battery pack is not intended to be installed and removed frequently.

After the FullCharge is installed, you snap on the supplied battery cover and you're done! The next step is to connect it to the charger by inserting the 2-pin clip through the holes in the battery cover. The connector on the charger is a small, wedge-shape housing that includes a little pull tab for easier removal. Since the connector is rather small, making it hard to get a good grip, the tab really helps when it's time to remove it from the Visor. Pulling straight up on the tab makes removing the connector easier. There's also a red LED on the clip that flashes to indicate when the FullCharge is charging. When the battery is fully charged, the LED glows continuously.
The drawback to the FullCharge is that the Visor can't be recharged while in the cradle. The charger's connector is bit too large to allow the Visor to sit in the cradle and make a good connection with the HotSync connector. eXtend has informed me that they were hoping to ship an extension that will clip on the cradle's locking tab, enabling the FullCharge to be used. It was, however, not ready in time for the initial shipments. They claim they will be sending one to all customers as soon as it's available. If it works, it will be a welcome addition to the FullCharge, although not as simple as just dropping it in like a Prism.
Battery Life >>
Copyright ©1999-2016 Smartphone Experts. All rights reserved : Terms of Use : Privacy Policy
VisorCentral is not not affiliated with or endorsed by Handspring Inc in any way.