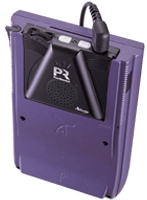 Works with Visor, Deluxe, Platinum, Neo, Pro, Prism and Edge

Memory 16 MB (Audio), 2 MB (Data)

Max Recording Time 8.5 hours

Max No. of Voice Messages 1024

Audio In/Out Built-in Speaker/Microphone

Size 56.8mm x 54.0 mm x 12.1mm

Accessories Earphones included

Desktop Conduit Windows only

Export Type .WAV

Availability Unknown

$99.00
---
ProRecord Digital Voice Recorder by Admobis Technology, Inc.

Who needs a keyboard on PDA? No time for graffiti writing? Just say it on ProRecord! The new ProRecord digital voice recorder directly enters your important messages into Palm O/S based PIMS, such as Address, Date Book, ToDoList and Memo.

Finally there's a smart way to record and store important information into your Visor™ handheld. Just plug in the ProRecord Springboard™ module into your Visor™ and press the HotKey button to record notes, memos and reminders. 16MB of onboard flash memory allows a total of 8.5 hours of recording, or up to 1024 individual messages.

The Built-in high quality microphone and speaker offers you quick and easy digital recording and playback. The included Pro desktop application software lets you upload the voice files and send them with your email as attachments.


---
User Opinions

| | | | |
| --- | --- | --- | --- |
| | 100% | | 0% |
It's okay but...
Good Price, not-bad Quality of Audio recorded, Large memory for audio, also very useful 2 MB of memory for data. But I hate apps made by ADMOBIS, which are designed as replacements for built-in apps, such as datebook, address, to-do and memo. Pro Datebook, their version of datebook is implemented base on datebook, not datebook+ so you can't use the advanced feature which datebook+ provide, such as floating event and "DONE". There is only one nice feature in their apps, such as Briefing but personally I don't use it at all. I just wish I could simply press the record button, record messages and done. Simple one app for recording my messages. That's all I want.
by uchlee
---
It's okay but...
Good Price, not-bad Quality of Audio recorded, Large memory for audio, also very useful 2 MB of memory for data. But I hate apps made by ADMOBIS, which are designed as replacements for built-in apps, such as datebook, address, to-do and memo. Pro Datebook, their version of datebook is implemented base on datebook, not datebook+ so you can't use the advanced feature which datebook+ provide, such as floating event and "DONE". There is only one nice feature in their apps, such as Briefing but personally I don't use it at all. I just wish I could simply press the record button, record messages and done. Simple one app for recording message. That's all I want.
by uchlee
---