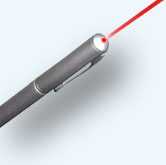 Works with Visor, Deluxe, Platinum, Neo, Pro, Prism and Edge

Laser Range 1500 ft (500m)

Laser Battery Life 30 Hours Continuous

Laser Color Red

Length 5 3/4 in.

Weight 1.5 oz.

Ink Colors Available Black/Blue/Red/Green

Availability Unknown

$25.99
(At www.styluscentral.com)

---
Infiniter 3P Stylus/Pen/Laser Pointer by Infiniter

>> Read Review (Rating 4/5) <<

Laser pointers are a fairly new and useful technology, which have dropped quite significantly in price over the last few years. Now, standalone laser pointer keychains are available for under $10. Laser pointers are convenient for teachers or for any type of presentation. If you write, have a PDA, and give presentations, the Infiniter 3P is for you. It combines a stylus, pen, and laser pointer all in one.

Available for purchase at www.styluscentral.com

See VisorCentral's extensive review for more infomation...

---
User Opinions

| | | | |
| --- | --- | --- | --- |
| | 0% | | 100% |
Beware! Does NOT FIT the Visor
This pen combo works on the Visor screen - but beware: it does NOT FIT the Visor stylus slot. The "works with" blurb is misleading - this stylus would work with ANY PDA - and probably fits NONE of them! :(
by krowden
---